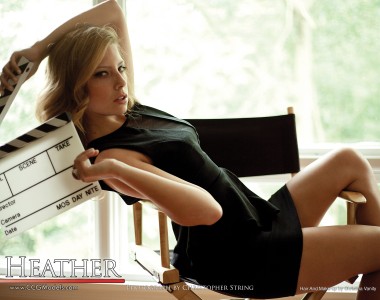 Name: Heather Dorian
Year: Class of 2013, Rutgers University
Age: 21
Major: Psychology
Favorite Class: American Film Directors
Career Goal: To be able to support myself as an actress.
Favorite Quote: "Where's your will to be weird?" – Jim Morrison
Bio: Heather Dorian is a beautiful and talented model as well as an actress. She has shot for various ad campaigns and appeared in numerous independent films. She will be appearing as a cheerleader in a scene for the upcoming film "Grown Ups 2″ featuring a star-studded cast including Adam Sandler, Kevin James, Chris Rock, Steve Buscemi, Maya Rudolph and many others. The film is scheduled for release in July 2013.
Heather's fierce style and welcoming personality make her beautiful both inside and out. She is as creative as she is funny and working with her can hardly be considered work at all. Her ability to collaborate and conceptualize unique and interesting ideas makes her a true partner in the creative process. She has the ability to make something personal to her yet broad enough to catch the interest of any casual observer. Heather's style is all her own and, whether in modeling or acting, what she brings to the table is always something positive.
Film/Television Appearances: Grown Ups 2, Bear Swamp Recovery (TruTV), Sun Block Segment (MTV), Days of Our Lives (NBC), My Life is a Lifetime Movie (Lifetime), Mom Logic (Kate Gosselin – Pilot), Deerhoof – Mario's Flaming Whiskers III (Music Video LINK)
Commercial/Industrial Appearances: Fright Fest (Principal – Six Flags), Mayan Mobile Marketing (Customer – Web).
Training: Meisner Scene Study, On Camera Commercial, Acting at Rutgers University
Modeling Appearances: Undergirl.com, Spencer's Gifts, Hot Topic, 25-karats.com, Glam Bar (Red Bank Location), Lilly Pulitzer, BCBG Shoes, Jessica Simpson Shoes, Max Studios Shoes, Halcyon Days (Saks 5th Avenue), Aemillie Hair Extensions, CCG Models – Scarlet NJ, Bloom Salon, Colure Hair Products.
LEARN MORE ABOUT HEATHER BY CLICKING HER LINKS BELOW
Facebook Fan Page, Portfolio, Instagram @h_dorian
LEARN MORE ABOUT THE PRODUCTION TEAM
Christopher String – Photographer
Christina Vanity - Hair and Make-up