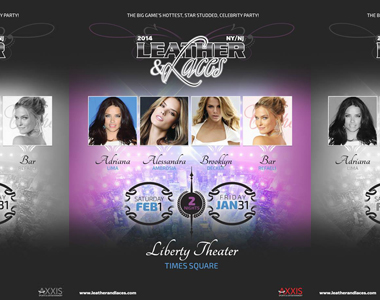 Adrienne Laurén and Lara Cole attended the 11th annual Leather & Laces party as members of the Posh Models from Posh Boutique. The event was held on Friday, January 31st and Saturday, February 1st at the Liberty Theater in Times Square, New York City and hosted by Axxis Sports & Entertainment. It was a star-studded event with Brooklyn Decker, Bar Refaeli and guest DJ Paris Hilton in attendance on Friday and Adriana Lima and Alessandra Ambrosio in attendance on Saturday. Other attendees included Steven Tyler, Justin Bieber, Nicky Hilton, Perez Hilton, Maksim Chmerkovskiy, Luke Petitgout and Joey Fatone.
The night was a celebration for the weekend leading up to Super Bowl XLVIII which was being held across the river in East Rutherford, New Jersey at MetLife Stadium. It was the first time the Super Bowl was ever held in the New York area and the excitement could not be stopped by the frigid temperatures of recent days and weeks. The 11th annual Leather & Laces party, which shows up every year in the city hosting the Super Bowl, appears to have been a perfect fit for the New York / New Jersey nightlife and sports world.
For many more photos from the 2014 Leather & Laces party, head on over to Bergen.com to see their photo coverage. To see photos from previous years or to get information on future events, check out the Leather & Laces website.
Photos from Adrienne and Lara's Instagram accounts can be seen below.
Other event images can be seen that were taken by Lucas John Apice Photography and S.A. Fiduccia Photography. Be sure to check out their pages for other fantastic work.