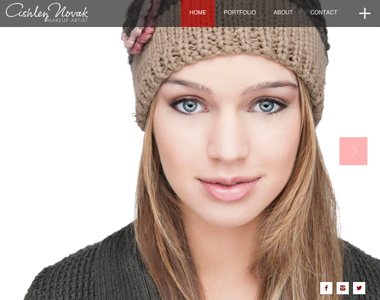 Today, we are happy to announce that one of Ashley Novak's makeup and beauty websites has been launched! Check out AshleyNovakBeauty.com to explore her work and make sure to drop her a line if you are a model, photographer, fashion designer or anyone else interested in working with her.
Stay tuned for GlamOnDemand.com, Ashley's other website that will be receiving a complete makeover and re-launching in the near future!
Ashley's biography can be read below:
Makeup artist Ashley Novak creates a subtle and natural beauty experience, producing timeless looks while keeping her finger on the pulse of the latest trends. She specializes in complete makeup artistry, including airbrush makeup and light hairstyling.
Her unique talent has been utilized on various runway and print projects ranging from high fashion to catalog. She also lends her skill set to special events for renowned international cosmetics brands including Mac, Benefit, Tarte, Smashbox and Becca Cosmetics. From hot products to important safety regulations, Ashley, a licensed cosmetologist, is passionate about her craft and believes that you can never learn too much. Continuing education is key in this makeup artist's success.