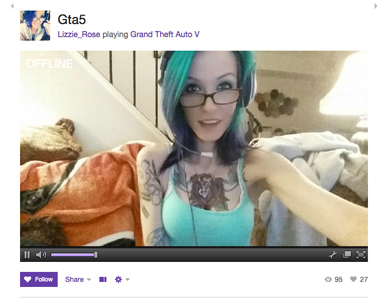 We're happy to announce that Elizabeth Rose's new Twitch.tv channel is live! You can watch her streams and follow her under her Twitch username, Lizzie_Rose. Make sure to show her some support!
Elizabeth Rose has been gaming since she was 4-years-old, first on the original Nintendo (NES) and now she games mostly on her PS4. Her streams will be featuring her PS4 and a range of games from GTA V to Plants vs. Zombies: Garden Warfare. She will be adding more games to her list and, of course, taking requests.
She is a true gamer and has an NES controller tattooed on her right forearm and random Nintendo characters pieced into her sleeve. She had her first stream yesterday and it was an amazing success right off the bat! We can't wait to see how her channel develops!