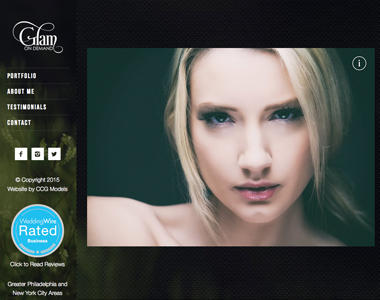 Today, we are happy to announce that we recently launched Ashley Novak's next makeup and beauty website, GlamOnDemand.com! This website focuses on her wedding styling and other more personal types of work, so make sure to check it out and explore some of her great and unique content!
Of course, make sure to check out AshleyNovakBeauty.com to explore her traditional work and make sure to drop her a line if you are a model, photographer, fashion designer or anyone else interested in working with her. Whether it's through Glam On Demand or Ashley Novak Beauty, we can confidently recommend that Ashley is a phenomenal makeup artist to work with on any project!
Ashley's Glam On Demand information can be read below:
Started in 2011 by owner and lead makeup artist Ashley Novak, Glam on Demand has been dedicated to providing its customers in the Greater Philadelphia Area as well as New York City with onsite hair and makeup services.
Our projects range anywhere from intimate personal & projects (weddings, family portraits,) to professional & corporate projects (models, actors, musicians). No matter the size or type of project, we approach each and every client with the same level of care and dedication, ensuring that our clients are satisfied with their Glam on Demand experience.
Our onsite makeup services allow our clients the luxury of having our makeup artistry brought to them. This allows our clients to have the freshest makeup application possible and also allows our clients the opportunity to make improvements or changes right at the event, ensuring the right look for any situation that may arise.
• Airbrushing
• Traditional Makeup
As we do with makeup, Glam on Demand also proves exceptional onsite hair styling services. These services allow for our clients to enjoy the convenience of having our team of talented stylists on hand to ensure the right look for our clients needs.
We can't wait to make you Glamtastik!