-March 10, 2013-
Last night CCG Models had the honor of being a part of the 2nd Annual Phi Sigma Sigma stRUt For The Kids Fashion Show. It was a fantastic evening with participants not only from the Rutgers chapter of Phi Sigma Sigma but from members of numerous sororities and fraternities as well as kids from the Embrace Kids Foundation which the fashion show was raising money for.
There were 25 beautiful female models from sororities such as Phi Sigma Sigma, Alpha Chi Omega, Delta Gamma, Gamma Phi Beta, Sigma Delta Tau, Sigma Kappa, ZTA as well as members of the Embrace Kids Foundation and the Dance Marathon. There were also 24 male models from fraternities such as TDX, Phi Kappa Sigma, Delta Chi, Alpha Phi Omega, DU, Chi Psi, Pike, SAE, Sigma Chi, Phi Sigma Kappa, Theta Chi, ZBT and a member from the Dance Marathon.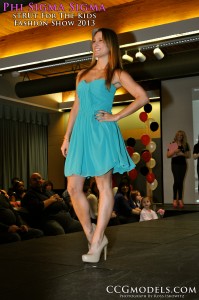 The female models wore various designer dresses supplied by the generous people of Rent The Runway that ranged from Badgley Mischka to Vera Wang. Everyone looked stunning and the room was full of cheers, laughs and admiration for everyone that walked down the runway.
But lets not forget what the entire evening was about. Raising money for the Embrace Kids Foundation is the #1 goal for everyone involved but so was giving the kids that the foundation supports a night to remember. Each fraternity and sorority's group of models had kids from the foundation there to support and participate in the show. If the goal was to give these kids a great night then that goal was accomplished to the highest level as was evident from the smiles, dancing and all around happiness that was more than apparent for every kid involved.
The night wound down with some great prizes donated by sponsors from all over the area and the kids themselves picked the winning tickets. As the crowd slowly exited at the end of the evening, the success of the show from both a fundraising and entertainment standpoint could not be argued.
It was a great night of modeling, charity and community support that CCG Models is proud to have been able to be a part of. Phi Sigma Sigma did an excellent job on their 2nd annual fashion show and it is clear that it will continue to be a success for years to come.
For more information about the Embrace Kids Foundation, please visit http://www.embracekids.org/