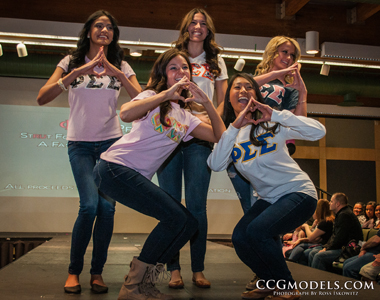 This past Sunday, (March 29, 2015) CCG Models once again had the honor of participating in the 4th Annual Phi Sigma Sigma st

RU

t For The Kids Fashion Show. As they do every Spring, Phi Sigma Sigma and the other participating sororities and fraternities not only put together a magnificent show that raised money and awareness for the Embrace Kids Foundation, but they also provided a fun-filled afternoon for the kids of the foundation.
The event was sponsored by Phi Sigma Sigma at Rutgers New Brunswick and organized by Emily Angstadt and Gianna Silvi. Lilly Pulitzer also sponsored and provided the fantastic outfits for the female models to wear. Participating in the event were 24 female models from 13 different sororities and groups at Rutgers University including Alpha Omega Epsilon, Alpha Phi Omega, Alpha Zeta, Athletics, Carpe DM, Douglass Residential College, Gamma Phi Beta, Phi Delta Chi, Phi Mu, Phi Sigma Sigma, Sigma Delta Tau, Sigma Kappa and Zeta Tau Alpha. Also participating were 22 male models from 10 different fraternities and groups including Alpha Zeta, Athletics, Chi Psi, Delta Upsilon, Phi Delta Chi, Phi Sigma Kappa, Phi Kappa Alpha, Sigma Pi, Theta Chi and the Rutgers Wrestling Team.
What is unique about the Phi Sigma Sigma st

RU

t For The Kids Fashion Show is that it involves not only the members of the participating sororities, fraternities and groups, but also many of the children of the Embrace Kids Foundation. The kids take to the stage along with their sorority, fraternity and group friends and it is clear to everyone in attendance that they VERY much enjoy doing so. It's definitely the highlight of the evening.
The event also featured a 50/50 raffle as well as 48 prize packages donated from all over the area including beauty products, health packages, show tickets and even 7 night stays to places like Saint Lucia, Antigua and Barbados! Nick from Hurricane Productions once again provided the backing tracks for the evening as well as the video presentations.
As always, Phi Sigma Sigma put on another great afternoon of modeling, charity and community support that CCG Models is proud to have been able to be a part of. Now in its 4th year, the Phi Sigma Sigma st

RU

t For The Kids Fashion Show has become a staple of the Spring and something for everyone involved to look forward to every year. If you missed it this year, make sure that you're there next year!
Congratulations to everyone involved!
For more information about the Embrace Kids Foundation, please visit www.embracekids.org