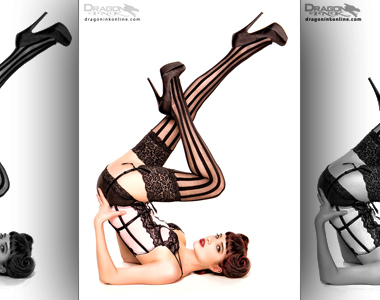 After another great vote between 2 possible image choices, Susan's fans have determined the image for our next Limited Edition poster. The image selected is a stunning and unique Pin-Up style photo that can be hanging on your wall soon!
We need your help reaching our minimum pre-order requirement to put the poster into production. Please head over to Indiegogo to see what special rewards are available along with the poster. We came up with some new and unique rewards to add to the original rewards from the last campaign. New rewards include 4 unique photos to choose from for an autographed high quality 8×10 print as well as a chance to be a photo shoot producer and help Susan craft a photo shoot to your preferences. We also added an extremely rare and unique package known as the Ultimate VIP Experience. You'll have to check out the campaign to see what that includes…
We brought back many of the rewards from the last poster such as a 1-on-1 Video Chat with Susan, a personalized video and a personalized autograph. We were overwhelmed with how much everyone loved them. Like last time, every supporter will also have access to exclusive behind-the-scenes images and updates during the poster production that will not be posted anywhere else.
CLICK HERE to check out the campaign! http://bit.ly/1nlKsVA