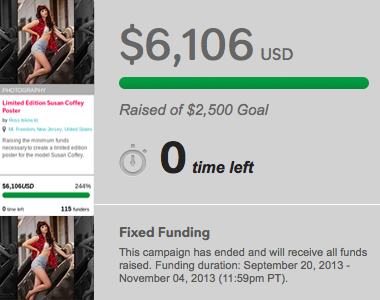 You did it! Thanks to the amazing support of everyone who contributed, shared, liked, and distributed information about the campaign in every way possible, we exceeded our funding goal for Susan Coffey's first limited edition poster by an extremely wide margin. We could not have done it without you!
The poster is NOW AVAILABLE in the online store. There are still a few days left for personalized options but those options will end on Friday November 8, 2013 at 11:59pm PST. Susan will be signing and creating all of the personalized content on Saturday November 9, 2013 and they will be on their way to you soon!
The final total of the campaign came out to $6,273 including what we raised directly on our store. This is over 250% of what we were hoping for! We are absolutely thrilled and cannot wait to finish all of the packages and send them on their way to each and every person who contributed from all over the world.
Here are some of the countries that Susan's poster will be shipping to as part of the campaign fulfillment: United States, Ireland, Germany, Mexico, Belgium, Canada, France, United Kingdom, Russia, Australia, Netherlands, Taiwan, Brazil, New Zealand, Sweden, Costa Rica, Chile, Czech Republic and Spain.
Thank you again to everyone who contributed!