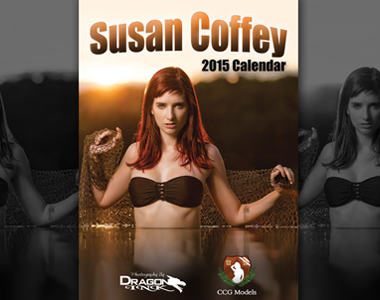 We are thrilled to be able to finally announce Susan Coffey's 2015 Calendar! It has been months in the making and we cannot wait for everyone to see it! Make sure to head over to the store page and grab your pre-order reward package while the Pre-Order Reward Period is still active!
We have all sorts of exclusive reward packages for pre-order supporters
including a FREE video download featuring Susan Coffey available immediately after your pre-order is complete

. The calendar is also 20% OFF during the Pre-Order Reward Period so don't miss out on the early bird discount!
Other reward packages include fan favorites such as Susan's autograph, a personalized autograph, a personal Polaroid, a personal video, a personalized collector's 8×10 with 1 of 4 exclusive images to choose from and of course a 1-on-1 live video chat with Susan! We also have a package that includes 2 autographs, one on each side of the
FREE 2-sided poster that comes with every calendar

.
For more in-depth information on the calendar and pre-order reward packages, head to the 2015 Susan Coffey Calendar product page!

The Pre-Order Reward Period ends December 1, 2014

so don't miss out!
Progress at the time of this post:
Calendar Photography
100%
Image Layout Selection
100%
We're almost finished! The calendars will ship in early December to all of our pre-order supporters! Stay tuned for progress updates as well as pre-order exclusive behind-the-scenes photos and other content.