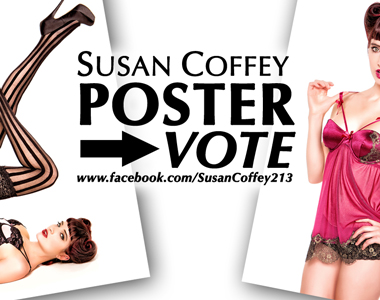 Susan Coffey and CCG Models are ready to start the process for her next poster and we need your help in choosing which image will be featured! CLICK HERE to vote and you will be entered into a chance to win a free autographed poster featuring the winning image. You can also vote on the CCG Models Page to double your vote and gain an extra entry into the drawing.
After you vote, don't forget to share the poll with your friends! This will give you 1 EXTRA ENTRY into the drawing for every friend that takes the poll from your share. The number is unlimited and all you have to do is click a button! Make sure to "Like" Susan's Facebook page because only her followers are able to vote. Also make sure to provide a valid email address so that we know how to get in touch with you if you win. You can only vote once.
Thank you for your help and we look forward to continuing in our process of creating an awesome series of limited edition posters! Stay tuned for the announcement of the winning image!
Voting Ends: Monday, March 10, 2014 at 11:59am PDT (7:59am GMT)
Want to get the last poster? CLICK HERE or head over to the CCG Models Store.