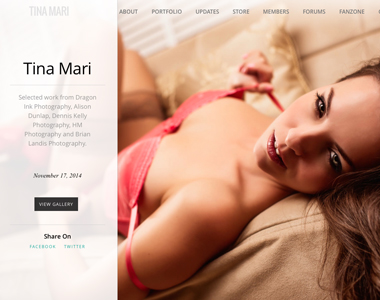 The time has finally come! Tina's website xoxoTinaMari.com is live and we hope that you enjoy it! You can subscribe to her website at http://xoxotinamari.com/plans/membership-levels/ for access to comments, forums, art submissions, fan leaderboards and other members-only content.
Please explore the site and let us know what you think! User feedback is extremely important to us so don't hesitate to let us know about your thoughts, questions or concerns! A lot of time and effort went into creating a fun, unique and engaging website designed to be so much more than simply a modeling platform.
If you are looking to have a website created and/or managed by CCG Models, send us a message and we would love to chat about it! CLICK HERE TO CONTACT US
Don't forget to follow Tina as well!